New works by Brooke Herr

Grief Prompts by Ingrid Ollquist, Death Doula and Intuitive Grief Counselor
666

6" x 60"
originally made 2021, reconstructed summer 2023
hand dyed linen & silk + silver & rhodium chain
$666 USD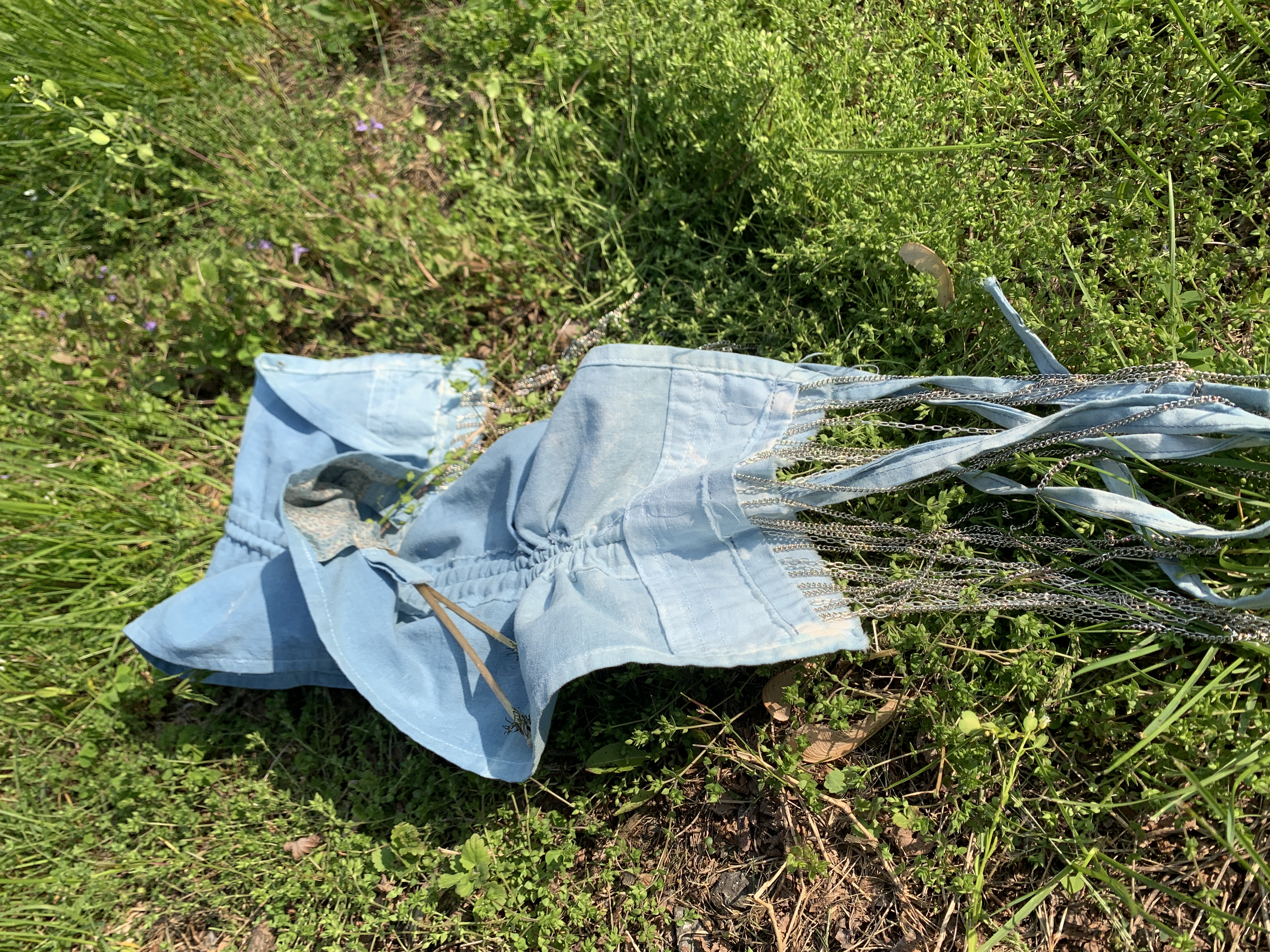 444
8" x 53"
summer 2021
hand dyed cotton muslin & silk + silver & rhodium chain




︎︎︎How does the medium, texture, color, smell, etc. reflect what you were feeling?

When I look at these pieces, I see layers and layers of family. My mom's favorite color, chains in panificio doorways in Agrigento, my great grandma's first communion outfit, my grandfather's death, my dad's relationship to spirituality, my childhood memories of sensuality, isolation, love. I see the objects I grew up with and traditions that were nurtured, erased, and severed over the course of thousands of years. I see a lot of intergenerational themes in various stages of being drawn up into the arms of someone willing to hold it - things like guilt, celebration, interdependence, need.
666
6" x 60"
originally made 2021, reconstructed summer 2023
hand dyed linen & silk + silver & rhodium chain
$666 USD

︎︎︎How does this work respond to your experience with grief?

These pieces were coming to be, after a big period of change within my nuclear family… and right in the crux of a mental health crisis that helped illuminate my undiagnosed OCD. At the moment that I made these altar sites, I was really making an internal decision toward imperfect relationships and my own imperfection within them.

One theme that I was really sitting with as I made these textiles was the loss of narrative (good, bad, victim, savior) in exchange for complexity. There are a lot of things I have wanted to be true about myself or my family. A lot of ways I have wanted to define us, and a lot of ways I wish we could interact, hold tradition, show love. And in the summer of 2021, I reached a point where I could let that go. The grief over what was not intact, or what was not the way I wanted it to be… was overtaken with a desire to just know each other, as best we can. I started to feel curious about the ways I had hurt others, not just the ways I had been hurt - and curious about the closeness that might emerge if I released my rigid image of what "close" means. And through this curiosity, I started to see pathways toward releasing this sense of isolation I'd held onto for so long. When I look at these textiles, I see the beginnings of my body relearning how to love and be loved.

brooke's hand holding some raw wool from their studio


︎︎︎Reflect on how the limitations of language might lead us to experiment with materials.

I think one way material work differs from language is that the materials themselves are also sentient. They have input, and they shape the conversation. The discarded wool that I found in a barn where I was living it has a whole life before and after me, and so when we agree to work together, I know that the wool is bringing its own intelligence and experience to the table. So the materials are beings who have agreed (for whatever reason) to look with me; to peer in and try to understand with me. They bring unexpected contributions to the nuance of what is said. They say things I might not have said alone.


444
8" x 53"
summer 2021
hand dyed cotton muslin & silk + silver & rhodium chain
$444 USD

︎︎︎Did you create your work(s) to honor an ancestor or loved one?

Yes, I think these works are meant as devotional prayers the family body.

When I think of healing in the context of family… I can't really separate ancestor work, from nervous system work, or interpersonal work between living family members. I can't really even divide chosen family, from nuclear family, from extended family, from romantic partner, from larger community contexts. My family is present in my gut health, in my mental health - I am present in my great-great-grandparent who I never met. That's not to say that we aren't distinct, or that we don't have boundaries between us… but when I go in to heal or understand one facet of family, all the other facets of my body, my relationships, my experience of love are there with me. These pieces felt like ritual communications to that family body - kind of a commitment.



unfinished drawing series, created as a sensory integration practice (2022-present)




444

8" x 53"
summer 2021
hand dyed cotton muslin & silk + silver & rhodium chain
$444 USD

︎︎︎Describe your process of conceptualizing, making, and displaying.

I don't usually know what I'm going to make, before I make it - so the process of making is a slow unearthing. I usually imagine that the object knows itself, and can tell me how to find it and materialize it. The signals come in one nudge at a time: make it shorter, put the seam here, leave this part undone, redo this section.

For these pieces, I guess I started with my own desire that they would be sites for ceremony and tradition. I want whoever buys them to use them - not just display them. I want meals to happen over them, candles and offerings and candy dishes placed on them. I want the family younguns to look forward to the slinky chains, and for it to be a considered a special "job" to carefully bring them out of storage to prepare for celebrations. So in making them, I was thinking about how they would fit on altars, dinner tables, credenzas, hearths. I was thinking of our family home, and the absolute thrill I felt toward intergenerational objects, and traditions of decoration (think: plastic bins filled with holiday wreaths, ornaments, garlands packed in tissue paper). I wanted the pieces to feel a little bit worn-in, like they'd already been passed down a generation or two.

When I photographed them initially, I wanted them to be shown in ceremony. I set them up with herbs and wine and fruit. I also wanted to photograph them in ways that communicated their motion - I wanted to show them glistening and dripping, and to show the way they hold their weight and the sway of the chains.
666
6" x 60"
originally made 2021, reconstructed summer 2023
hand dyed linen & silk + silver & rhodium chain
$666 USD
︎︎︎Consider how your practice (art-making or something else!) has helped you process grief. What role does your work play in helping you move through the world? Think about how your practice(s) allows you to communicate and connect with others on a deeper level.

I really believe that art is a way we can talk with ancestors; that through the touch and color and technique of making we can be shown what artifacts we might have inherited, or what garment might need to be worn, or what loss is looking to be held. For me, textiles are particularly effective at drawing up deep memory. There is so much that transpires when I am learning a particular dye technique, or style of seam, or working with a new kind of fiber. It has definitely been a way that I process grief, and a way that I connect to the places, materials, traditions, and people who are around and a part of me.

Art practice also provides me a space for emotional processing and sensory integration – which deeply affects my ability to receive and connect with the world around me. As a neurodivergent person, it's imperative that I have spaces to experience my body, to make sensory choices, and to integrate all the sensory information I've gathered throughout the day. Creating is one place in which my OCD and hypersensitivity feel like superpowers, not just challenges to navigate. It has become a place where I can unfurl completely, letting my mind zoom in on whichever detail it finds interesting, letting myself undo and redo something just because it irks me that it's wrinkled in this or that way. In creative practice, my persevering focus can actually be pleasurable - and it can be unlinked from perfectionism. I get to practice the difference between a compulsion and a desire. I try to keep risk on the table - especially with pieces I'm feeling fond of, because it gives me a chance to regulate through mistakes. The small and large griefs of losing what was, and the need to embrace whatever the thing is now.

666
6" x 60"
originally made 2021, reconstructed summer 2023
hand dyed linen & silk + silver & rhodium chain




444

8" x 53"
summer 2021
hand dyed cotton muslin & silk + silver & rhodium chain
$444 USD